Cantine Settesoli bottles wine in a variety of different formats, such as bottles and BIBs, providing containers of varying sizes in recyclable materials. Our packaging production capacity can cater for more than 20 million items a year. Prior to bottling, the wine is analysed to ensure that it meets the necessary criteria, such as alcohol content, total acidity and volatility, free and total sulphur dioxide and the concentration of iron, copper, proteins, bacteria and yeasts, all essential factors for guaranteeing the preservability and biological stability of the wine.
Cantine Settesoli is equipped with two complex lines that perform the different stages of the bottling cycle: bottle washing, filling, capping, labelling and packaging, using a wrap-around and palletising systems. Each stage of the process is controlled by a sophisticated photo cellular system that reveals any anomalies on the line, discarding the product before it can reach the packaging stage.
A glass bottle is the go-to 'wrapper' for storing quality wine: it protects the wine and guarantees its preservation and aging, making it easier to serve and taste. Glass is a flavourless material that does not alter in contact with alcohol, tannins or carbonic acid. Green or brown coloured glass protects the wine from sunlight to prevent it changing colour. Glass can also withstand temperatures of -15°C to 80°C, an important characteristic, especially during the transportation stage of the wine. For all of its lines, the company adopts the use of bottles made with 25% less glass to ensure a reduction in CO2 during both the production and transportation stage. In the last calendar year, we bottled 13.435.079 products, in in 6 different formats (from 0,375l, 0,5l, 0.75l, 1l, 1.5l and 3l), subdivided between 280 different labels, which were distributed to 42 countries, including Italy.
Products bottled in the last calendar year
Different formats
lt: 0,375 – 0,5 – 0,75 – 1 – 1,5 – 3
Countries, including Italy, which were distributed
Percentage of wine bottled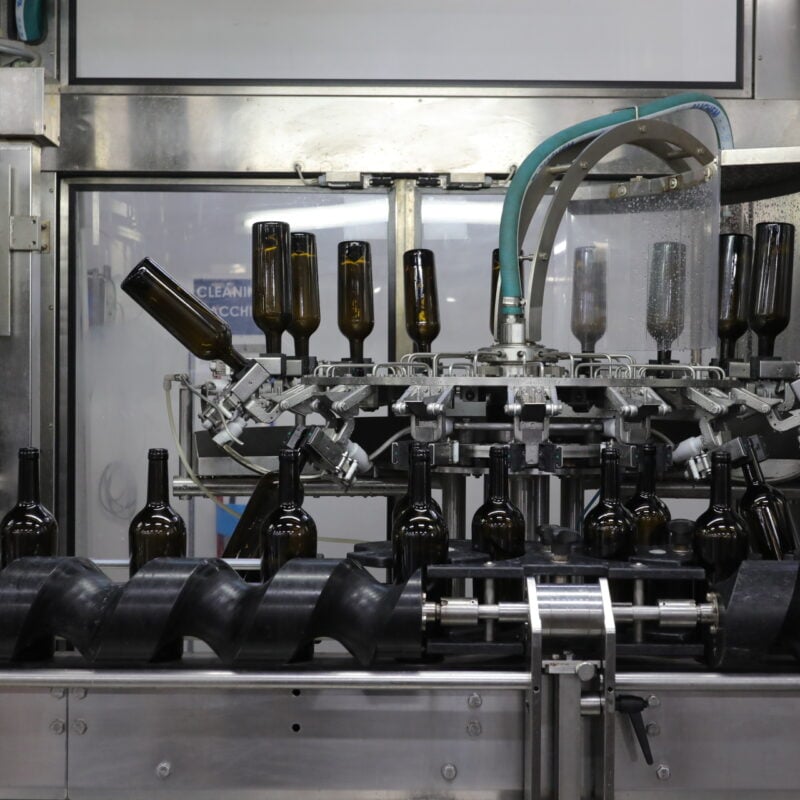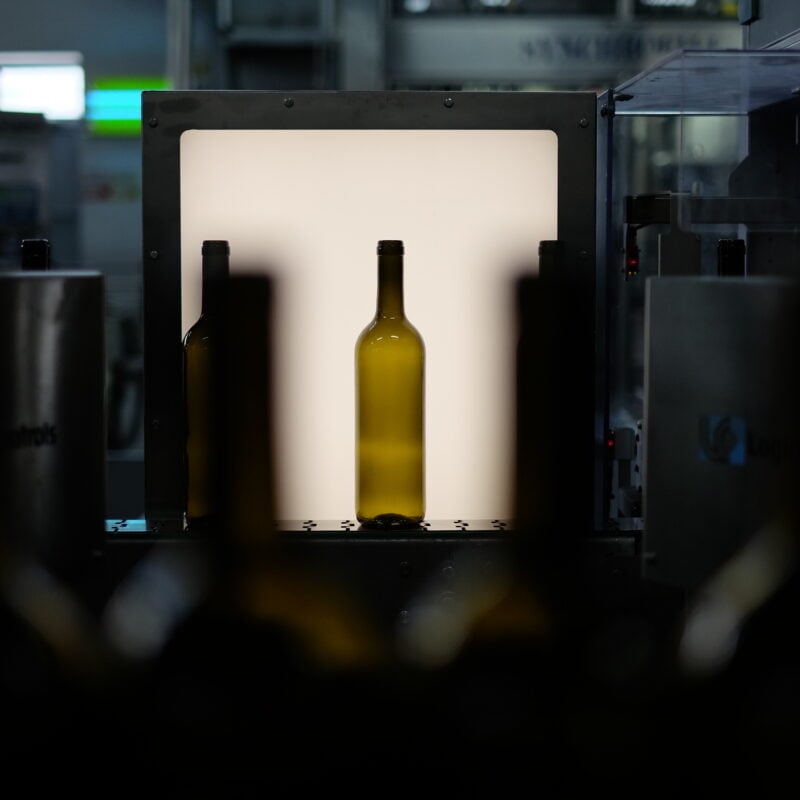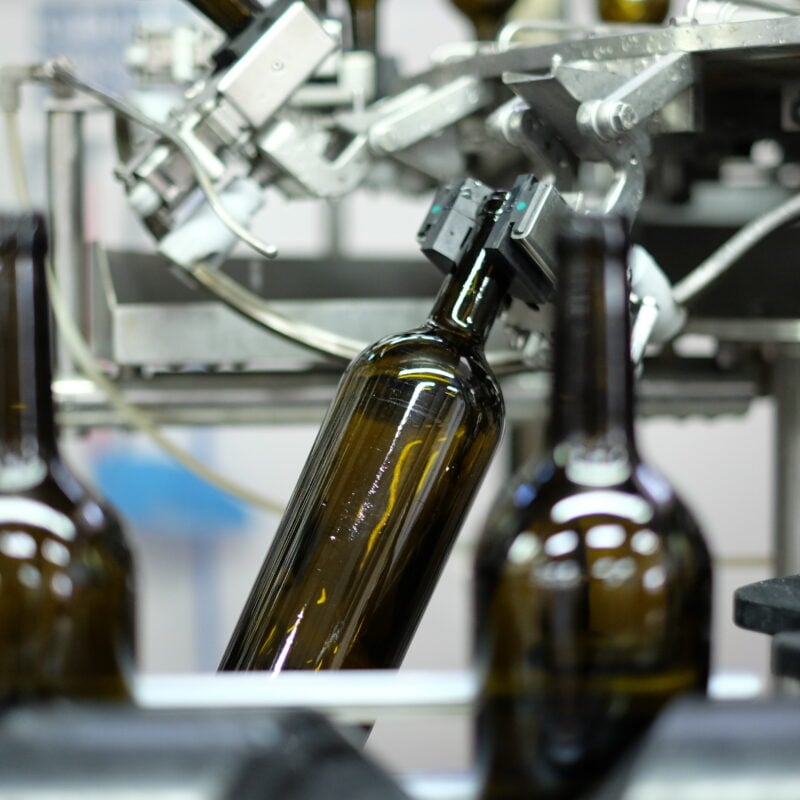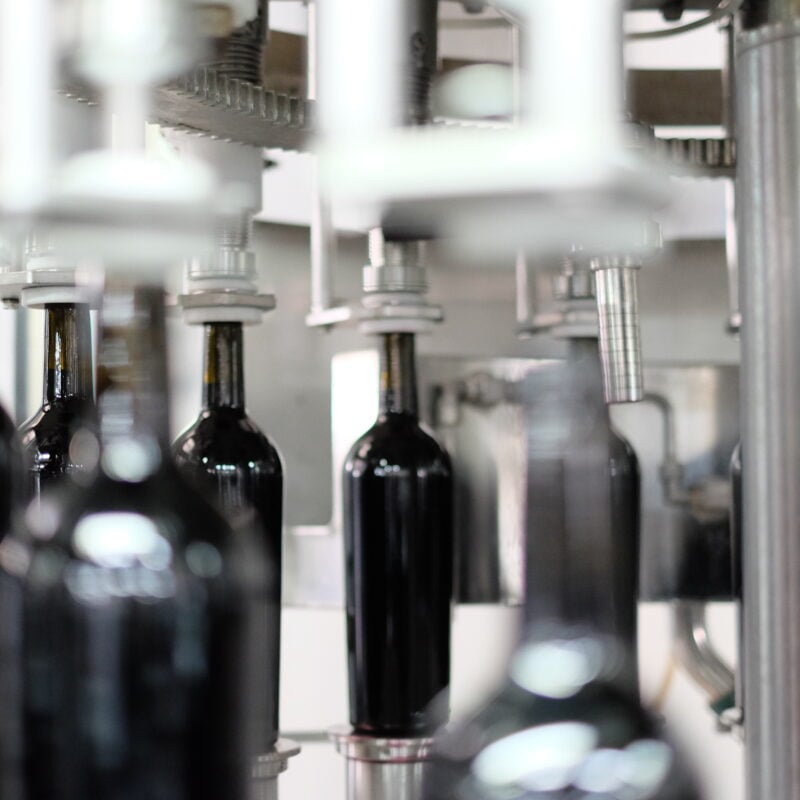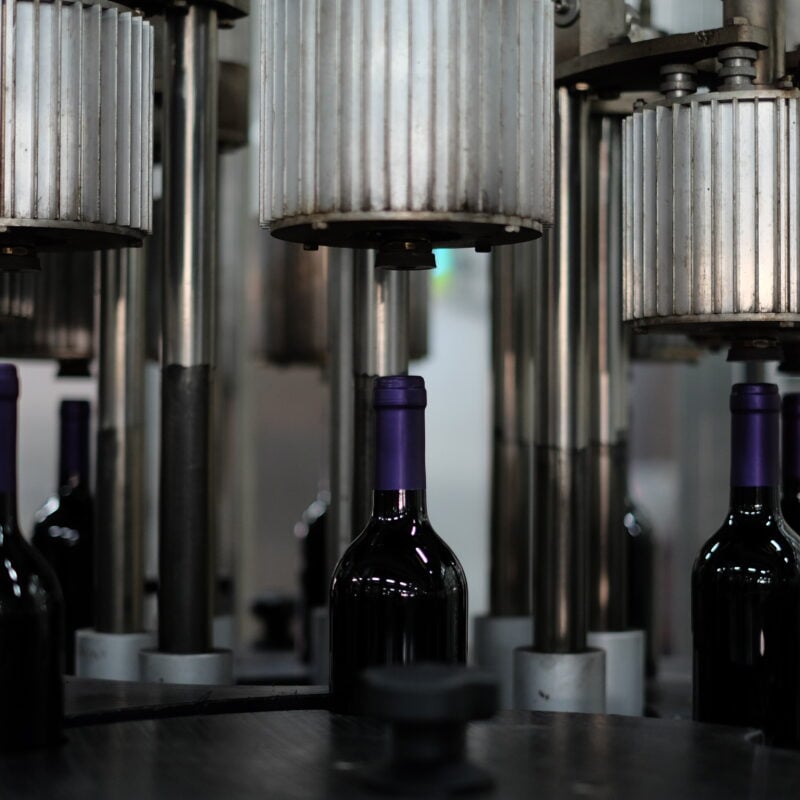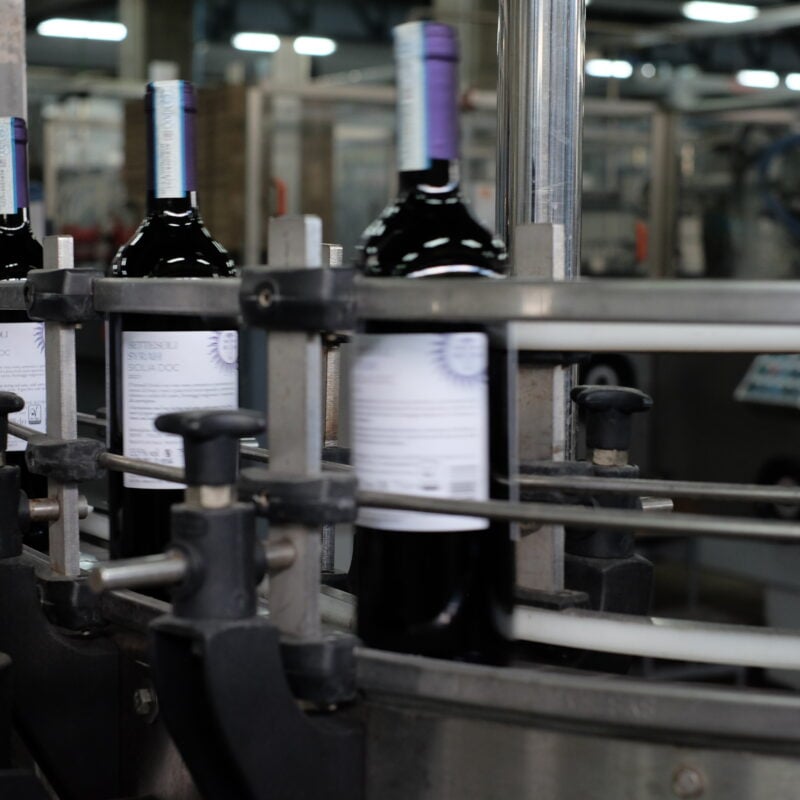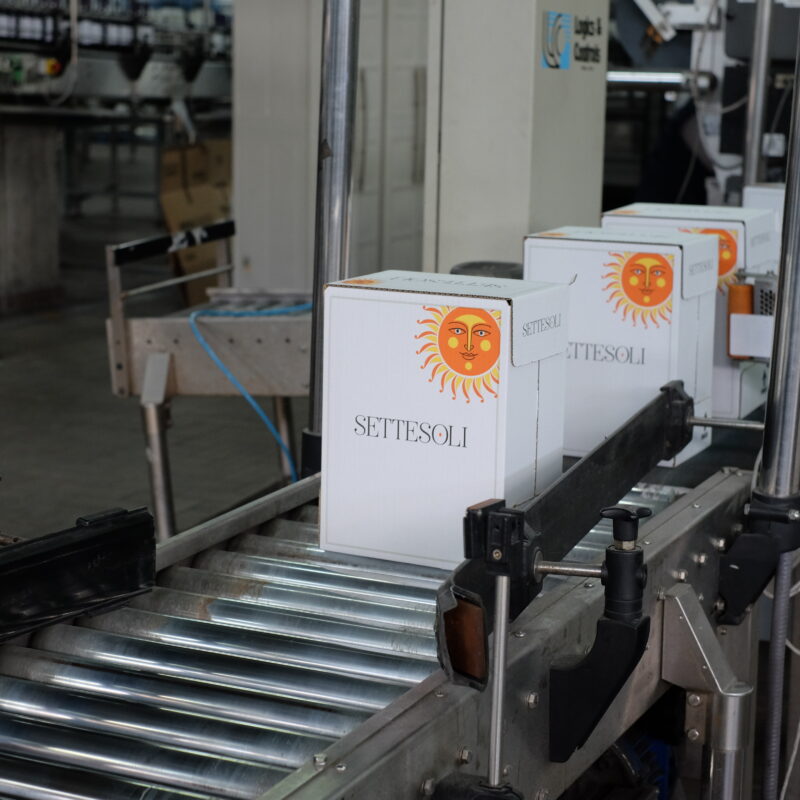 The company has been producing wines in the BIB format for over 20 years to meet the express demand of the overseas markets, particularly Scandinavia, where they are extremely sensitive to the theme of sustainability. In fact, BIB is a sustainable, eco-friendly format in a variety of sizes, which consists of a cardboard box with a metallised polyester food grade bag that protects the wine from light, air, gas and other external agents, and a tap for pouring the wine. This type of packaging guarantees product freshness for up to 15 days after opening. BIB is also practical to dispose of  because it is made entirely from recyclable materials: the cardboard can be placed in the recycle bin, while the bag can be disposed of in the non-organic bin. Unlike the classic glass bottle, BIBs maintain the wine's organoleptic properties right down to the very last drop. Another strong point is their portability, i.e. they are far more practical and safer to transport compared to glass bottles. Breakproof and elegant (with the right graphics), the format is a practical everyday solution for consuming wines that is becoming increasingly popular.
This is why Cantine Settesoli has also chosen this option for its premium and organic wines selection, particularly the Inycon range. Our dedicated production line and sophisticated technology guarantees efficient and rapid product availability, with products currently shipped to 11 markets worldwide. In fact, last year the company sold 615,770 pieces, under 19 different labels, in 4 different formats (2l, 3l, 5l, 20l).
Different formats
lt: 2 – 3 – 5 – 20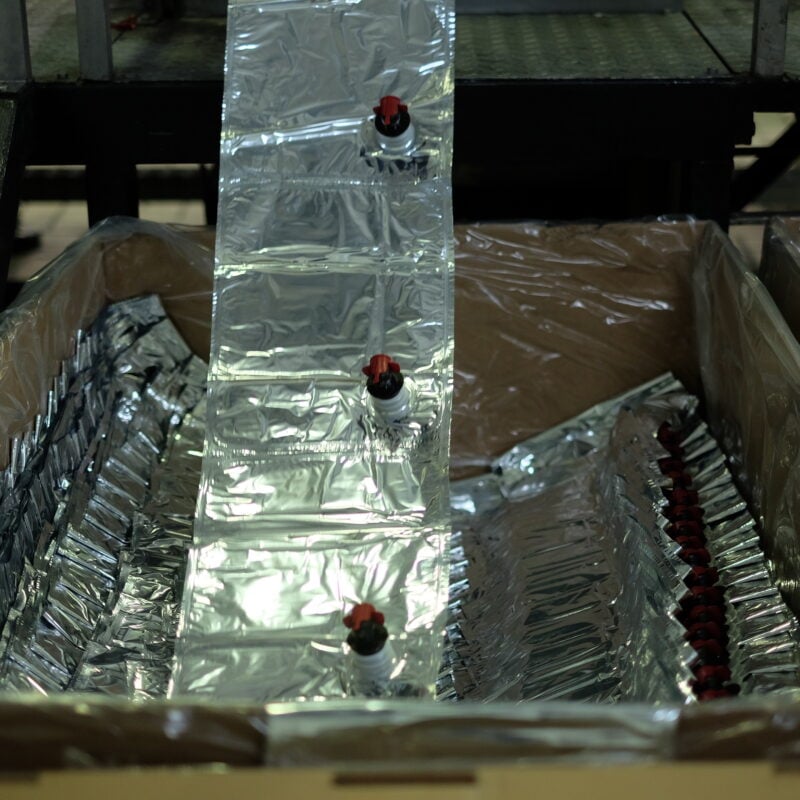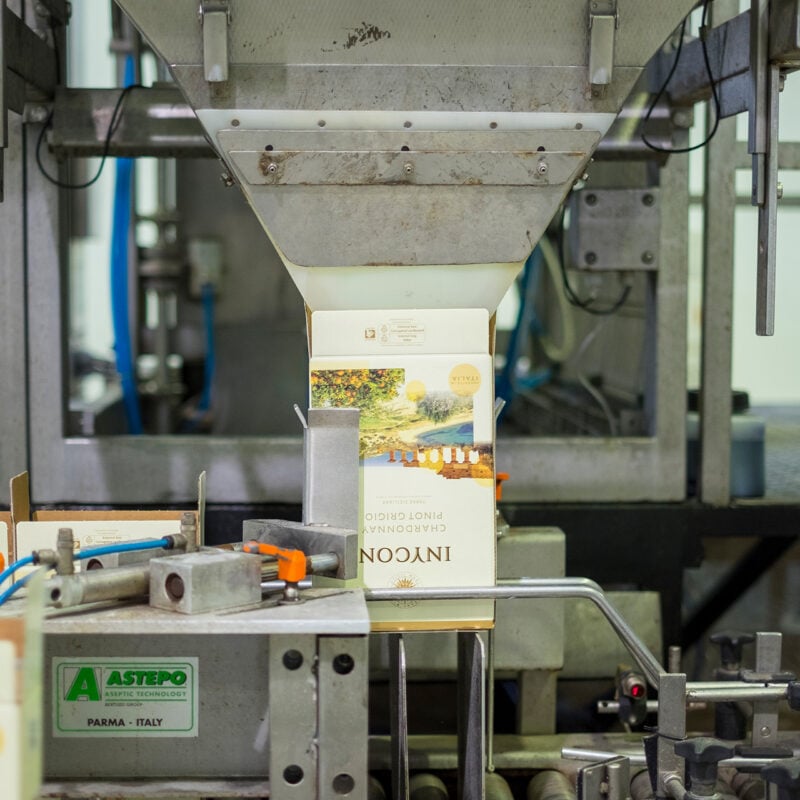 Tetra Pak® protects the quality of the wine but also the quality and environmental viability of  production chain, blocking out UVA rays and humidity. It is also eco-sustainable and recyclable. The cellulose used in Tetra Pak® containers comes from Scandinavian forests and a tree the size of one cubic metre can produce circa 13,300 cartons that could cater for the needs of a family for approximately 50 years.
75% of the carton's raw materials are made from FSC-certified virgin paper, which means they come from responsibly managed, sustainable forests. This material helps gives the packaging its rigidity and strength and protects the product from sunlight: a 21% polyethylene (PE) protective barrier stops the liquids from seeping out, while a 5% aluminium film provides effective protection from light, air and bacteria. As well as providing excellent protection for the wine, it is also highly practical for consumers.
Cantine Settesoli produces Tetra Pak® products for the Torre Solada range (an off-trade white, red and rosé, distributed in Sicily), and the Prego brand, a special project for Sistembolaget in Sweden. The products are sold in the 1 litre format, with 1.994.392 pieces sold over the last calendar year.
Pieces sold over last calendar year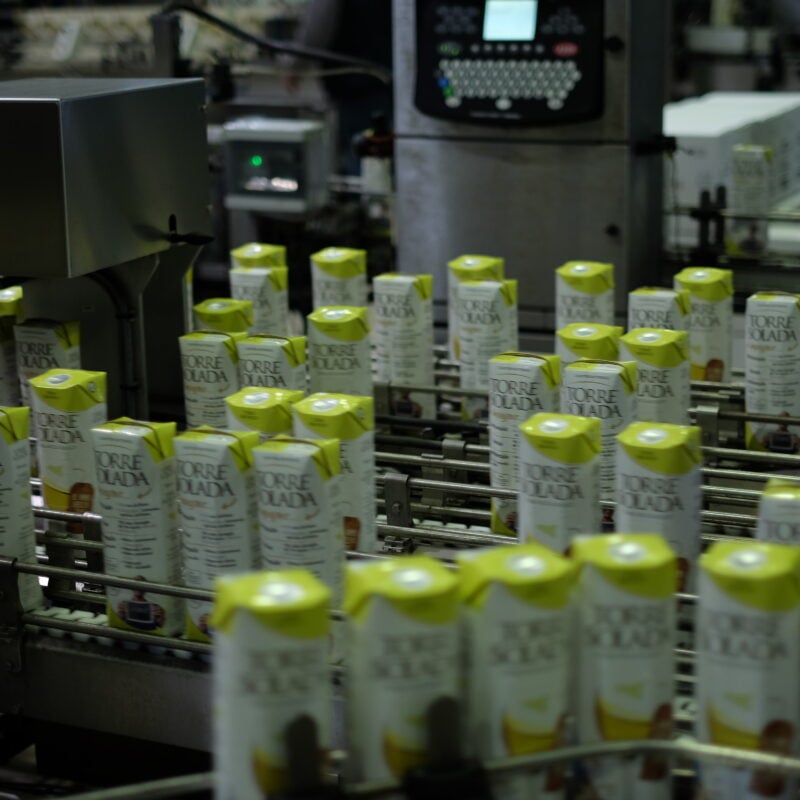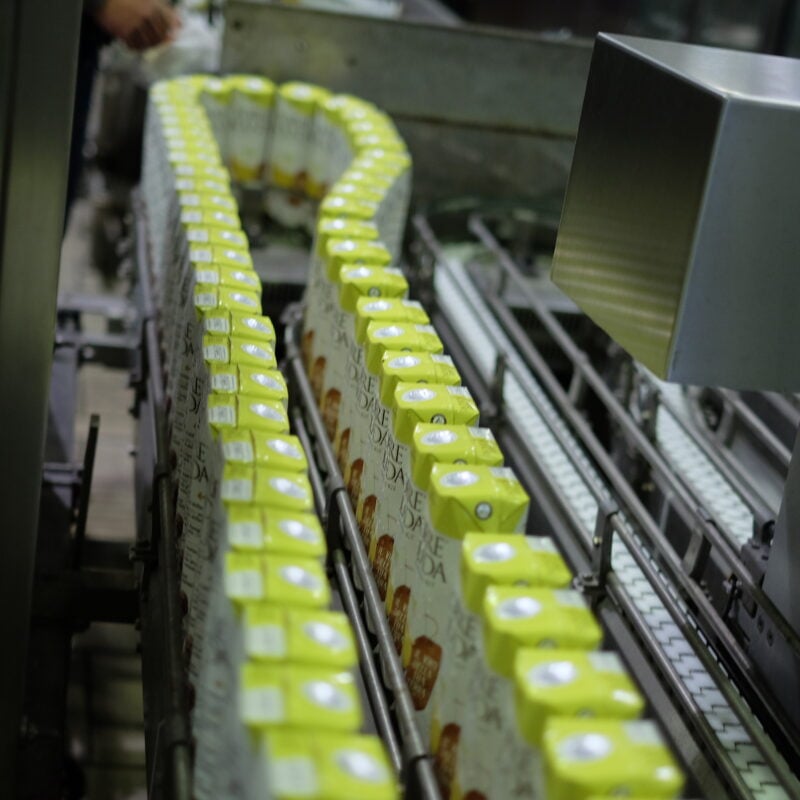 Pouch-bag® maintains the wine's organoleptic properties intact, thanks to the special air-tight barrier that protects the product from oxygen inside and out. The wine is poured using a special Vitop® compact tap, that stops air from entering the container. With a double gusset in the base and at the top, this self-standing, light-weight bag comes with an easy-carry handle, which also helps reduce the carbon footprint. Cantine Settesoli has chosen the Pouch-bag® to satisfy growing demand, particularly in Scandinavian countries, and its popularity is destined to grow over the medium-term. Settesoli currently produces one brand in the 1.5 l format, distributing 50,400 pieces to the Norwegian market a year.
Pieces distributing to the Norwegian market a year
Cantine Settesoli offers a vast range of quality cask wines that represent all of the principal vines of the territory, all delivered according to the needs of the client, from thermal-conditioned to 'bottle ready'. Thanks to leading-edge technologies and our constant commitment to the health and quality of the grapes, we can achieve an average production rate of 325.000 hl. With a selection of both conventionally cultivated and 100% organic vegan wines, we provide excellent white, red and rosé wines to satisfy every market segment.
Varieties in production
10 white and 6 red
Markets
Italy, USA, Denmark, Northern Europe, Germany
Percentage of distribution in Italy
Percentage of distribution abroad