Cantine Settesoli is a cooperative with 2.000 members. We produce the vastest range of grapes in Sicily, growing  36 different cultivars over 6.000 hectares of vineyard (which amounts to approximately 7% of the entire island's vine cultivations), a 1000 hectares of which are dedicated to certified organic cultivations.
With production rates of 20 million bottles per year, we export 43% of our products to a good 45 countries worldwide. 70% of the 5,000 families in the Terre Sicane district of Agrigento, are involved in the company's activities in many different ways, cultivating the vines and the future of Sicilian wine for a global market.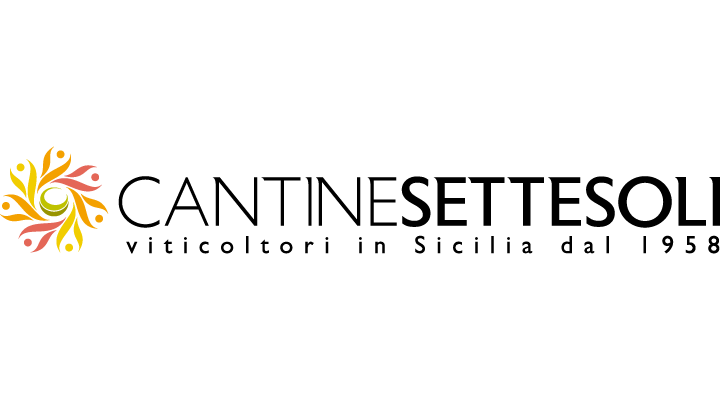 Logo
With its clean and elegant lines, "Cantine Settesoli's warm and colourful logo embodies the concepts of community, union, cooperation, growth, energy, nature and sustainability. The slogan states: "Cantine Settesoli winegrowers in Sicily since 1958".
"Cantine Settesoli is a virtuous model of cooperation that produces while respecting the territory and people. But we can only reap success in the future if we act today, by implementing strategies that promote our common vision of how we want to shape the world of tomorrow. As the global market and the wine production sector are undergoing significant growth and structural change, we need to identify core strategies, in line with the company's vision, that can be developed into targeted initiatives aimed at improving productivity and profitability. 
Since 1958, Cantine Settesoli has been working on building a solid company that has gradually expanded to create global brands that are distributed the world over. Today, with the rise of growing competition, we need to double our efforts to ensure the company takes that exclusive place in the minds of consumers, sustainably differentiating ourselves to make our wines their first choice in an increasingly crowded and fragmented market. 
The 'premium' positioning of our wines, supported by the offer of a consistently high-quality product for the end consumer, is at the heart of our long-term strategy. A strategy that has been accomplished and strengthened through constant research, winegrower awareness campaigns, the defence of important issues and improving organisational efficiency, which all contribute to the sustainability of the sector.
The company management team are committed to optimising the growers' profits and will do all in their power to maintain a thriving, constantly evolving and prosperous business for the entire territory".
Giuseppe Bursi